CRASH Part 2: Missing Samantha
by Dr. Kixx Goldman
(Part 2 of 3)
Sometime, perhaps hours but perhaps only a minute or two, your father, who's lingered in the waiting room since dawn, strolls in.
He bends down to plant a kiss on your forehead, smiles at me, walks over and extends his hand. "I'm Samantha's dad."
I introduce myself, put my packages down, pull the Monet calendar out, tear the plastic off and offer it to you. Dad looks over your shoulder at the calendar and says, "Mm, nice, beautiful images." He stretches and excuses himself. "You two girls chat. I'll go for a coffee."
You take the calendar with a longing, wondering look in your eyes, and examine it closely, as you turn the pages. You say, "It's beautiful." Then you speak three words which you repeat, over and over. "I can't remember." You put the calendar down on the small table next to your chair.
Our conversation is sparse, reduced to telegraphic pleasantries about the weather and gifts I brought. I miss our traditional girl chat and your usual outpouring of thoughts and feelings. A Disney movie, playing on the TV, captures your attention. You look confused, turning back to me from the TV and say, "Weird … I can't remember." I am witnessing one of the stages of your recovery from a brain injury. A new experience.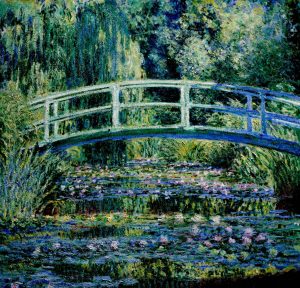 As I drive home down the freeway, I relive my visit with you and an awareness dawns. You remembered Monet and understood the purpose of a calendar but your frame of reference had evaporated. You knew me, but you didn't know how you knew me or where you knew me from. Context was missing for you. You needed anchors. I should've said, "Remember when I came to your office" or "Remember when we sat outside at Starbucks" or …
I chastise myself for a missed opportunity.
The magical connections created by neurons and synapses had been disturbed. Stuff we take for granted, missing. Your dad told me the doctor had said some of your neuronal pathways had not reconnected.
===================
Click Here for Crash: Missing Samantha, Part 1
Click Here for Crash: Missing Samantha, Part 3
=============================
Speak From Your Heart and Be Heard: Stories of Courage and Healing is available on Amazon in paperback and Kindle and some independent bookstores.
Warm thoughts,
Kixx Goldman