ABOUT KIXX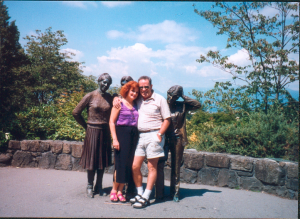 Kixx is an author, a psychologist, and a coach who loves to read. When she recently published Speak from Your Heart and Be Heard: Stories of Courage and Healing, she realized a lifelong dream of writing and publishing fiction. Little did she imagine how the world was to change following her exciting and successful book launch in February of 2020.
Kixx grew up in post-war Seattle. The jubilation of those days made a deep impression. Her father's mechanical invention at Boeing was a legend. The population was intoxicated by planes and air travel.
Before following the call of the desert and moving to Arizona, Kixx married a Canadian, lived in Vancouver, and raised three children. During those years, she acted in the local theater. She played the vindictive Abigail in Arthur Miller's Crucible. It was her most memorable role and a catalyst in her life.
Kixx earned graduate degrees in education and counseling psychology. In her private practice, she helped couples untangle fight cycles and recreate emotional intimacy. She also did individual and family work and taught workshops on personal empowerment and conflict resolution. As a consultant in public schools, she helped students overcome learning problems and develop social skills.
Kixx published non-fiction articles in psychology journals and feature articles in trade magazines under her given name of Audrey before she adopted the name of "Baby Kixx," conferred by her husband. She soon shortened it to Kixx.
On a typical Phoenix December day, you can find Kixx, admiring the blush of hibiscus and the quail strutting outside the window of her desert bungalow. On a fine July day, you can find her walking the seawall in Vancouver with her husband, Les, affectionately known to her grandchildren as "Uncle Lester." You might even see them stop to contemplate the magical Siwash Rock and muse over its Native American folk story.
In Peace and Harmony,
Dr. Kixx