Experiences of an Election Protector
by Dr. Kixx Goldman
November, 2018, Election Alert: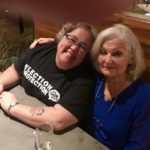 And here I was in full regalia, including a black button with white lettering saying I was a nonpartisan volunteer for Election Protection. Draped in a t shirt which would have fit my uncle Fred, and my EP lanyard. Sitting under a spindly cactus, which began to disgorge insects as the evening approached, perched on the folding chair the polling clerk had reluctantly handed me, noting, "it's a long shift, you can't stand the whole time."
I'd spent the last week boning up on rules and regs, ins and outs of the labyrinth of   election laws, when to use a provisional ballot "but try not to, it's just a last resort," who to text about a problem, when to panic and call for the heavy hitters. Learning about all the hoops voters are asked to jump through to prove their authenticity had been a bit of a challenge. It had brought me back to college days, cramming for a final, the old hangover fog after stuffing facts into my brain.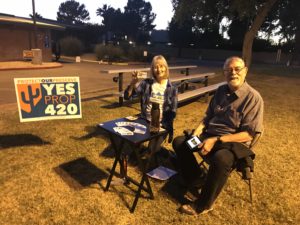 When I got to my assigned poll at Paiute, the magical moment occurred. The preparation I'd done was well worth it. This was the gravy part of the job: greeting the sweet voters. Some drifted in as if on a cloud, others hurried by with worried looks on their faces. But almost all were congenial and what fun it was.
My most "making a difference" moment came when I was able to help a sweet young man, I'll call him "Dylan." Dylan zoomed past the 75 ft. barricade, into the polling area but soon returned, looking grim. He confided he'd recently moved to Arizona from a northern state for health reasons. He'd brought his driver's license from that state but, as expected, the poll workers had turned him away. When I probed further, it turned out he'd made several attempts over the past few months, through a federal government website, to register in Arizona and had even applied to vote where he got food stamps, but to no avail.
After some discussion, we decided Dylan should bring his passport and a utility bill and this would satisfy the requirements. I asked him if he was okay to walk the four blocks home and back. He returned about an hour later, walking slowly and painstakingly this time, into the polling place, where he had no trouble getting a provisional ballot. After, we chatted for a while. I felt blessed to have met Dylan, a man who'd shown courage in meeting many challenges in his life.
=============================
Speak From Your Heart and Be Heard: Stories of Courage and Healing is available on Amazon in paperback and Kindle and some independent bookstores.
Warm thoughts,
Kixx Goldman